Welcome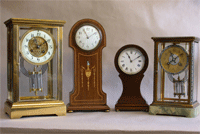 Dicky Tickers is a small domestic clock repair and restoration business based in Ipswich, Suffolk.
The workshop specialises in Antique Clocks, Barometers & Barographs repairs.
To arrange a repair or to find out more please call the workshop on: 01449 741 668. Visits to the workshop are by appointment only.

ESSEX CLOCK & WATCH FAIR 2019
For further information click here